It's a stormy night.
A shot fired from the barrel of a revolver.
Flashes of a man running frantically through the woods.
Police arresting Gerard Depardieu.
So begins A Pure Formality, a 1994 film co-written and directed by Italian director Giuseppe Tornatore, a man most remembered for writing and directing Cinema Paradiso, a breathtaking Italian film about the nostalgic power of film. Cinema Paradiso won the Academy Award for Best Foreign Film in 1990. You can easily find it on streaming services, video stores, and public libraries (and it is recommended that you do so if you can stomach subtitled foreign films). To my mind, A Pure Formality is just as compelling, albeit in a different sense, but despite winning the top prizes at multiple prestigious film festivals (including the Italian Golden Globes) is still not available on streaming services or DVD in America. I had it on VHS at one point.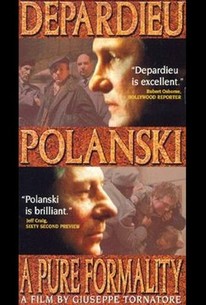 I'm going to warn you now: any discussion of this film and why it is important to me is bound to include spoilers. Ordinarily, I would shy away from that sort of thing, but the odds of any of you ever actually being able to sit down and watch this film are very poor. And even knowing the amazing twist ending would not make the film any less compelling should you be lucky enough to experience it. This is a film about dialogue, two incredibly powerhouse performances, and tension. Knowing the end does not ruin those things, but it is appropriate to warn a reader that HERE THERE BE SPOILERS.
In the film, shortly after Gerard Depardieu is arrested, we find him in a small precinct that has seen better days. The roof is leaking, the power is failing, the facility is rat-infested and understaffed. We learn that Gerard Depardieu's character is named Onoff, a reclusive writer of considerable renown who hasn't published anything of note in years, but he has no memory of anything other than his name. We learn that the police have found a mutilated corpse in the woods and that the police are suspicious of why Onoff might have been running in the area during a storm with an empty revolver in his trenchcoat. Onoff begins to fear that he is going to be framed for a murder that he did not commit. Onoff begins to fear that maybe he did commit this crime and does not remember it. Enter the Inspector (played by Polish director Roman Polanski). He is a skilled interrogator and he vows to get to the bottom of this unusual crime. What ensues is a tense and terrifying interrogation as Onoff begins to remember what happened.
There are very subtle nuances to the interrogation that make it far more compelling than your standard movie interrogation. Most of the conversation has nothing to do with the crime. I told you that Onoff is a writer of some acclaim. Well, The Inspector is an intellectual whose favorite novelist happens to be. . . Onoff. The Inspector can quote entire passages of Onoff's most obscure works verbatim. At first, The Inspector is dubious of his suspect's identity, but as the two men talk– about art, the beauty of the written word, the machinations of inspiration– the tables begin to turn and it becomes unclear if The Inspector is trying to solve a murder or convince his suspect to do him a favor and write one more novel before he retires. As the film progresses from there, we will learn that the time for one more novel has long since passed. The Inspector's work is complete: Onoff accepts the power of his creative legacy and begins to confess. It turns out that he does, in fact, remember everything that has transpired this evening.
Earlier in the film, when the two characters are introduced, there is a line of dialogue that becomes key to the entire film:
ONOFF: I am Onoff.
THE INSPECTOR: Right. And I am Leonardo Da Vinci.
And then the final two lines of dialogue:
ONOFF: I did not catch your name.
THE INSPECTOR: I already told you. I am Leonardo Da Vinci.
It turns out in the end that this almost-defunct and decrepit police station is, in actuality, a purgatorial waystation for artists who. . . have committed suicide. Despondent over his lack of productivity, Onoff has taken his own life. As he says in the film: "You don't write because you have an idea, but because you can't do anything else."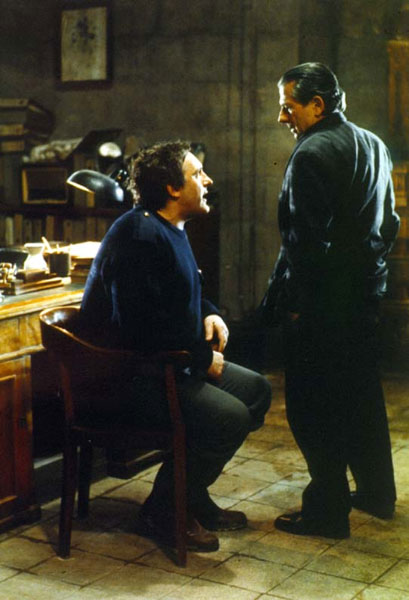 This is an incredibly gripping film, made all the more powerful by the strength of its two leads. Gerard Depardieu is clearly one of the great actors of our time, but Roman Polanski steals this show. Interestingly, Mr. Polanksi is not know for his acting. He is a skilled director, known for classic films such as Chinatown, Rosemary's Baby, and The Pianist. The last film in that list earned him a 2003 Academy Award for Best Director, a move by the Academy that was highly controversial. Controversial because Roman Polanski is also, unfortunately, well-known for being a fugitive of the United States criminal justice system after fleeing the country in 1978 while awaiting sentencing in a sexual abuse case where he pleaded guilty to statutory rape.
Is this why Sony Picture Classics has not made this film available on DVD in America?
I should admit, at this point, that I have always actually been quite a fan of Roman Polanski's work and did not find out about his questionable morality and lack of accountability until the controversial Oscar win. I recall watching those Oscars and wondering why such a large amount of the assembled audience refused to stand and applaud the win. I recall as well that The Pianist's lead actor (Adrien Brody, who also won Best Actor that year) accepted The Oscar on his director's behalf as Roman Polanksi could not enter the country without being arrested on those long-ago charges. Learning what I now know put me into quite a tailspin: it seemed that my admiration for the work of such a despicable person said something untoward about me.
I suppose there's an entire discussion to be had about the notion of whether or not it's okay to support the art without supporting the artist. Is it even possible to support the art without supporting the artist? I think it is to a certain point and I have compromised with myself by not gravitating toward his recent works. I can choose to not support him now while still having affection for his prior genius. And nothing that I know about him now can change the effect that the first viewing of A Pure Formality had on me.
It really is a shame that you can't see this movie.